Many cysts are bumps that look like air bubbles under the skin. They can be different sizes, and appear on different parts of the body. One of them, the digital mucous cyst, commonly occurs on the fingers and toes. Today, we'll discuss these toe cysts and explain the best treatment options so you can keep your feet moving happily.
What Is a Digital Mucous Cyst?
A digital mucous cyst is a type of ganglion cyst that is non-cancerous. This cyst presents as a round or oval fluid-filled lump near the toenail. Although the exact cause is unknown, it is believed to be related to osteoarthritis or other conditions. Any age group could be affected, but these cysts commonly occur in older adults.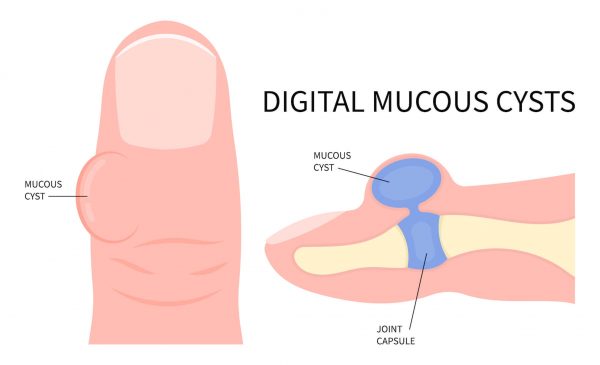 Other Names for the Cyst on a Toe
It's quite possible to have a cyst on your toe and hear multiple different names for your condition. That's because digital mucous cysts may also be called:
Mucoid cysts
Muco-cutaneous cysts
Digital myxoid cysts
Will a Muco-Cutaneious Cyst Go Away on Its Own?
A muco-cutaneious cyst can go away on its own, but they often come back. If it's still there after a few weeks, or it keeps coming back, you should see your podiatrist to discuss treatment options. This is especially true if you find that the cyst is causing discomfort when you wear shoes or socks. 
Why Do You Need a Physician for Digital Mucous Cyst Treatment?
While popping the cyst on your own may seem like a good idea, it comes with several risks. Without a sanitary environment, infection of the area is a real concern, and self-removal is likely to take much longer for the damaged tissue to heal. Additionally, if the cyst has a connection to the toe joint, there may be further risk of an infection of the joint. A physician — such as a podiatrist – can examine your cyst and suggest the most appropriate way to treat the area.
Digital Mucous Cyst Removal Options
Your podiatrist may suggest the following treatment options:
Cryotherapy
Cryotherapy is the technique in which tissue is frozen and removed. A common treatment for warts, cryotherapy may also be an option for cysts. 
Laser Treatment
This is a minimally invasive treatment option and typically uses local anesthesia so that a laser can be used to heal the area. Laser treatments are often in-office visits and may be more comfortable for the patient than surgical removal.
Surgical Removal, Including Seperation From the Underlying Joint
In some cases, a cyst may be removed surgically to reduce the risk of it growing back. If the cyst connects to a toe joint, that connection will be separated during the surgery. It is common to have a post-op recheck appointment to ensure that healing is well underway and there is no damage to the joint. 
Repeated Sterile Drainings
Although not a common treatment, there may be certain situations where the physician will perform sterile drainings until the cyst resolves on its own.
Keep in mind, a podiatrist will personalize their treatment recommendation based on your age, the location and number of cysts, and other factors in order to provide the best possible solution. 
Get A-cyst-ance With Your Digital Mucous Cyst
Although not usually a major health concern, you may still want to get that cyst on your toe removed with the help of your friendly podiatrist. At The Foot & Ankle Group, we help with all foot and toe troubles, including cysts. Schedule an appointment with The Foot & Ankle Group today.