If you or someone you love is suffering from neuropathy, you know how dangerous and painful the condition can be.
Beyond this nerve disorder's long list of symptoms— from numbness to prickling, burning, pinching, tingling, etc—neuropathy often also causes more looming issues like touch sensitivity, muscle weakness, and balance problems. When affecting the legs and feet, these can lead to accidental skin burns, injury, and trip-and-fall incidents, nevermind life-threatening vascular and circulatory problems.
Understandably, you need to take neuropathy very seriously— and you need a diabetic foot specialist who does too. When seeking treatment and continuous care for this nerve disorder, your provider needs to check a lot of boxes.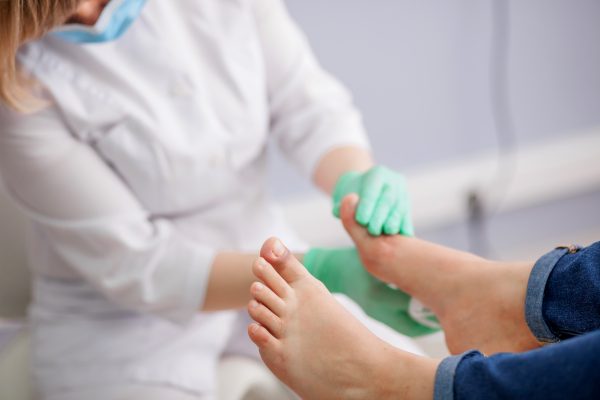 Here are seven things to look for in a diabetic foot neuropathy provider:
1. A podiatrist who properly diagnoses during an initial introduction.
Even if you or your loved one have been examined elsewhere, it's crucial for a new provider to do an initial assessment themselves. Because of how quickly diabetic neuropathy can progress if blood glucose levels are not safely maintained, it's vital for diabetics to be seen consistently.
During your first consultation, your new podiatrist will ask about your past medical history and current day-to-day routines.
Then, they'll perform a thorough exam to identify any concerns, wherein they'll look for neurological problems using:
Monofilament testing. They'll brush a soft nylon fiber called a monofilament over your feet to see your reaction to touch.

Pinprick testing. The podiatrist may gently poke your feet with a tiny pin to test if you can feel the pricking sensation.

Ankle reflex testing. The provider may tap your foot with a small mallet to see how your ankle reflexes, checking for nerve damage.

Other tests. Other tests may include tuning fork and visual perception tests (VPT) to test vibrational perception, vascular assessments to check for blood flow like ultrasounds, X-rays, etc.
Only after understanding the scope of your disorder can the foot neuropathy specialist advise on treatment options, leading to our next point.
2. A specialist who can prescribe multiple diabetic foot care treatment options.
While it's not possible to "cure" nerve damage, it is possible to help soothe neuropathic pain and prevent the damage from worsening.
Treatment options for foot neuropathy may include:
Medicine. While over-the-counter pain-relieving medications like acetaminophen (Tylenol), aspirin (Bufferin), or ibuprofen (Motrin IB, Advil) can be taken, nerve damage sufferers often need something a little stronger, or designed for longer-term pain relief. In cases like this, antidepressants can work to influence the chemicals in the brain that allow you to feel pain. Other Opioid pain medicines can be used as a last resort for extreme sufferers.

Creams. Such as Capsaicin cream, which when applied topically on the area of pain can sometimes relieve the nerves.

Physical therapy. Depending on the severity of the nerve damage, a podiatrist may recommend swimming or low-impact exercises that can bring temporary relief or help to maintain consistent circulation to your feet and ankles.
Seek a specialist who explores all your care options and puts you in control of your treatment path.
3. A provider who counsels on routine self-care best practices.
Beyond the prescribed physical nerve disorder treatments, you want a podiatrist who educates on the best ways to protect your feet and ankles moving forward. This means finding a doctor who not only helps you while in the examination room, but also behind closed doors by empowering you with at-home diabetic foot care resources. This could include personalized counseling on proper diet and exercise, recommendations for specialized footwear to stimulate and allow for proper blood flow, etc.
Check out our article, 5 Secrets to Preventing Diabetic Foot Problems, to get an idea for a few suggestions a podiatrist might make.
4. A provider who schedules routine check-ins.
Because neuropathic foot problems can worsen without proper blood glucose level monitoring, it's important for those with diabetes to routinely see their podiatrist. Unlike a traditional physical which typically occurs annually, those with diabetic foot concerns need to be seen more frequently. Here at Foot & Ankle Group, we bring our patients in every eight weeks for a check-in.
During this time, we'll check for any foot and ankle injuries as the result of numbness, such as bruises, swelling, infection, etc. In elderly patients, this is a common issue, having stubbed and broke or fractured their toes without realizing it, due to lack of feeling in the lower extremities. We'll also trim long toes nails, check for worsening of lack of sensation and ulcers, and answer any questions you may have.
5. A provider who knows you by name.
While you could go to a large office and likely receive proficient treatment, there's nothing comparable to a podiatrist who cares about their patients' well-being on an individual level.
At a practice where your foot doctor knows you by name, you can rest assured knowing you'll get the small, personalized attention you need. Look for a neuropathy specialist who comes with many years of experience, but comes from an office that allows for superior one-on-one care and a strong patient-doctor relationship you or your loved one deserves.
6. A provider who has access to a wide network of specialists.
As any diabetic knows, the condition affects more than just your feet and ankles. Uncontrolled blood glucose levels can cause a loss of sensation across other regions of your body or other life-threatening consequences.
If your diabetes requires help from other professionals to manage, you need to know that your podiatrist has connections they can rely on. For instance, here at Foot & Ankle, we'll sometimes turn to trusted vascular doctors to monitor your blood flow— as just one example of how we unite with other doctors to help you stay healthy.
When looking for a foot nerve care specialist, ask them about their network of neuropathy professionals to ensure you have the support you may need.
7. A provider who prepares you for emergencies.
Part of having an extended network means having professionals to turn to for emergencies. For diabetic neuropathy care, this is non-negotiable, as sometimes immediate attention is needed for circulatory threats— sometimes, requiring surgery. Of course, there's always the hospital, but it's much better to have a team you can trust on-the-spot to handle certain issues.
Meet the Foot & Ankle Team
Here at Foot & Ankle Group, we have close relationships with our diabetic neuropathy patients and are accepting new patients in Southwest Florida regularly.
See the faces behind our podiatry office by visiting our Team page.
Visit our Diabetic Foot Care page to learn more about our treatments. Then, give us a call to set up an appointment at 239.936.5400, today.