November 23, 2021 9:15 am
Individuals with Medicare or those who are approaching the age (65) to apply often have a lot of questions regarding this insurance coverage. Since Medicare is government-provided insurance and not the same as plans or policies offered by private companies, there can definitely be confusion over different types of services that you may already be receiving and whether or not they will continue to be covered.

We hear many questions regarding Medicare at The Foot & Ankle Group, including "Does Medicare cover podiatry services?", "Will this insurance cover foot surgeries?" and, "How much will it cost to continue to be a patient with you under Medicare?"
Fortunately, we can help you determine whether or not it covers your visits to a foot specialist so you can make the best choices for your foot health. Here are the answers to your frequently asked Medicare podiatry questions.
Does Medicare Cover Podiatry and Foot Care?
The good news is… yes, Medicare does cover podiatry under Part B! But the insurance doesn't cover all podiatry services.
According to Podiatry Today, "Medicare has specific rules for coverage, based on the patient's diagnosis and proposed treatment." That means whether Medicare and podiatry will be a good combination for your specific needs and requirements depends on a variety of factors. Working closely with your podiatrist and your insurance company is generally the best way to address any worries.
What Podiatry Services are Covered by Medicare?
Overall, yes, Medicare does cover podiatry services. But there are some nuances to ensuring that you qualify for Medicare coverage of your foot treatment. In some instances, you may need to be officially diagnosed with a condition or other qualifying reason to use your Medicare insurance for podiatry services. If you do have a medical need or condition that qualifies, and the service you need is one that Medicare typically covers, you'll have a much lower chance of having your claim denied for the podiatry services you're trying to get.
According to foot care information on the Medicare website, Medicare Part B (Medical Insurance) will cover yearly exams and treatment for the feet, for people who have diabetes-related nerve damage. These same kinds of services will also be covered for people who have medically necessary treatment requirements for diseases and injuries of the feet. These problems include, but aren't specifically limited to, bunion deformities, hammer toe, and heel spurs, along with other similar types of problems.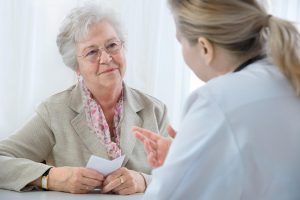 Podiatry Today also states that patients who require surgery to treat a foot condition, and who are admitted to a hospital as an inpatient for that reason, will get further coverage under Medicare Part A. Medicare doesn't generally cover foot care that's considered to be routine, except in cases where there's another health condition that makes it necessary to prevent further harm. One example of that would be diabetic neuropathy, but there are many other conditions that could also mean a need for foot care.
One thing Medicare doesn't cover is supportive devices like orthopedic shoes. These types of devices will only be covered when included in the price of a leg brace, or when the patient is diabetic. There are a lot of things that can go wrong with people's feet when they have diabetes, which is one of the main reasons it's a more thoroughly covered health condition under Medicare podiatry services.
How Much Will It Cost Me?
Knowing how much your podiatry services might cost you is just as important as knowing whether or not Medicare covers podiatry. The cost will depend on the type of Medicare in which you are enrolled and your income, so the exact amount varies from person to person. Luckily, Medicare provides helpful resources with the basic cost breakdown. You can also find more information about Medicare coverage and foot care here. Interested in routine foot care coverage? There's a page for that as well.
How Do I Begin Getting Podiatry Services Through Medicare?
Podiatry services may have other qualifications you need to meet first in order to get coverage and treatment through Medicare. To get a better understanding of Medicare and podiatry in your specific case, it's always a good idea to talk with your doctor. A Medicare support specialist may also be able to help get your questions answered. Discussing the next steps with your chosen podiatrist can go a long way toward being clear on what's covered and what isn't when it comes to foot care services.
We Accept Medicare!
The Foot & Ankle Group accepts Medicare, so you can work with us to get the help and support you need for foot-related problems.
We can help answer your foot care questions and talk through how Medicare and podiatry treatment work together.
Not only can that make you feel better overall, but it can give you a new opportunity to step out with confidence. Reach out to us for an appointment today!