You know that flip flops aren't the most supportive shoe. But living in Florida, it's hot— and your feet need to breathe.

Fortunately, not all sandals are created equal, and some can offer you the comfort you need. Check out these tips for finding supportive sandals to bring an end your footwear woes!
1. Look for a Cushioned Heel
For those with recurring heel pain, proper rear cushioning can help to alleviate some of your discomfort, or prevent anyone from having it in the first place! Unfortunately, a lot of sandals or flip flops don't have this extra padding and support, which can cause heel pain after a few hours of heavy activity or extended standing.

When shopping for the right open-toed shoe, consider a structure like Birkenstock's Arizona Sandals. You want to look for a contoured design, where your footbed has a deep heel cupping. This shape allows for more equal weight distribution and can help adjust your gait, which takes pressure off of the band of tissue that connects the heel bone to the toes, the Plantar Fasciitis.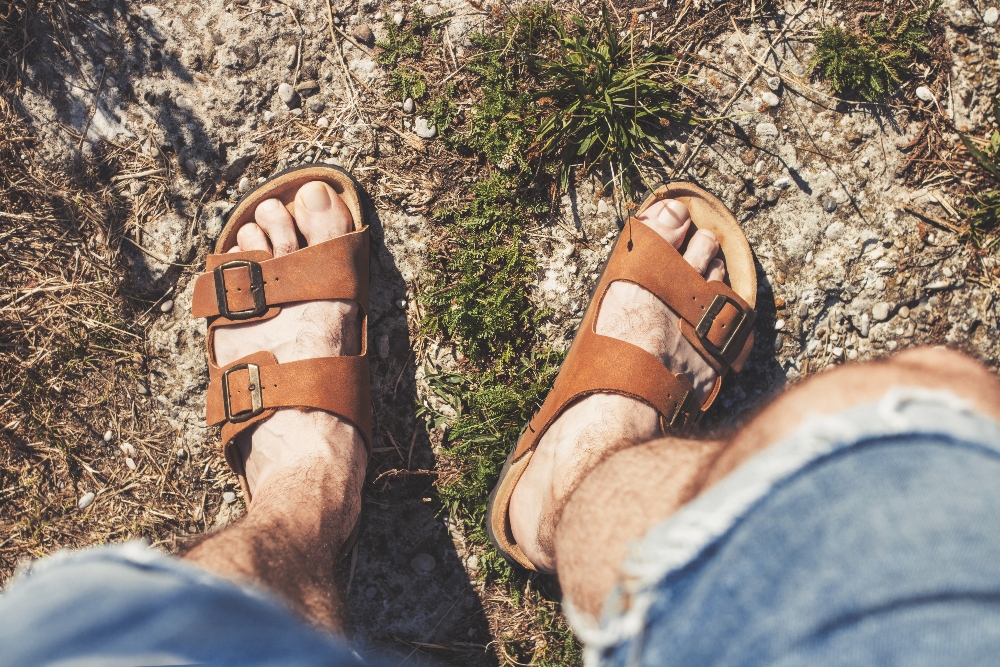 2. Be Mindful of the Footbed Material
Many flip flops and sandals are made out of unsupportive plastic, which, oftentimes, can be very thin. When shopping for comfortable sandals, pay special attention to the material of the footbed.
Shoes with cork-like beds help to cushion your feet and deter shock from walking. Some shoes feature cork construction, but it's covered by leather or a microfiber footbed for additional comfort, so read up on your footwear construction before taking the box to the checkout counter!

Others, like ECCO Yucatan Sandals, are made out of specially design materials to absorb shock from foot impact, which can mean less stress on your arches, joints and spine. Look to see if your shoes contain "EVA insoles," which is a dense foam polymer known as Ethylene Vinyl Acetate that's great for absorbing impact.
3. Never Compromise on Arch Support
Flexible, flimsy flip flops are perhaps the worst thing someone with flat feet— or just about any foot type— can wear. While you may have heard that the best thing for your posture is to walk barefoot, a foot in a flat shoe doesn't naturally bend in the same way your bare foot would. Long-term activity in flat sandals can exacerbate pain for those with misalignment or previous foot conditions.
There's nothing like a pair of sandals with good arch support, no matter what foot type you have! There's no need to sacrifice style with shoes like Dansako's Sophie Sandal, which mimic an orthodontic shoe, but without the bulk.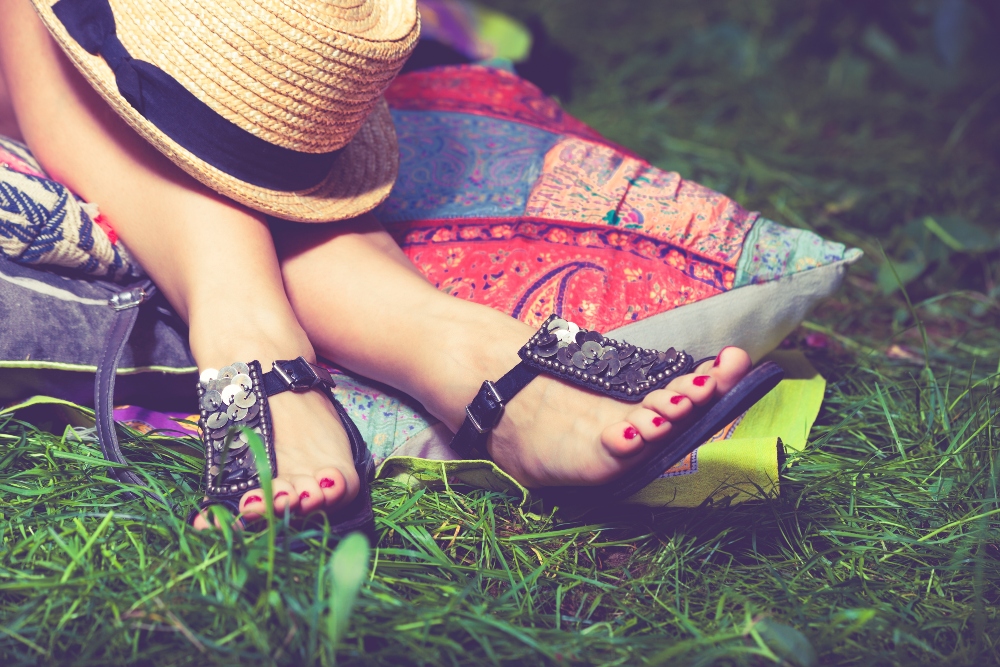 Even those with high arches can find comfortable sandals from KEEN. While this maker of supportive sandals typically makes more rugged, athletic footwear, the brand offers incredible arch support for those who do a lot of walking. Check out their Whisper Sandal, available in both men and women's styles.
4. Seek a Durable Sole
Flip those shoes over and check out their bottoms. Thicker soles typically add greater support and shock protection, but that's not the only thing to consider. Those who wear flip flops have been shown to take smaller steps, slowing you down, according to a study by Auburn University. Those who take shorter strides can be more clumsy, and increase your risk of tripping. A durable, sticky sole helps prevent sloppy stepping and keeps you grounded.

What are the soles made out of? Synthetic outsoles or slip-resistant rubber soles can add traction and reduce your chance of getting injured, so when trying them on, read about each shoe's unique features.
5. Always Try Them On
While it might seem tempting to order shoes online, save the internet browsing for doing research on the most comfortable sandals, NOT as your end-point. You never truly know if a shoe fits properly unless you try it on for yourself.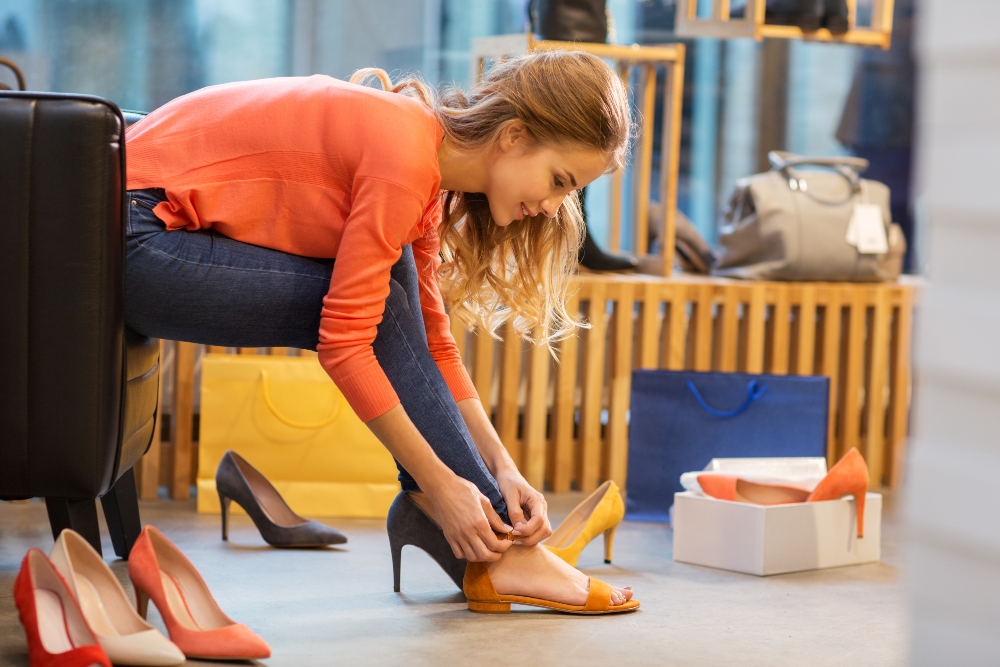 Did you realize that the time of day you go shoe shopping or the types of surfaces you walk on can affect your chances of finding the right fit? Check out these tips for shoe shopping, with personalized advice from our experienced podiatrists.
Put Your Best Foot Forward
We hope these tips for finding supportive sandals were helpful and that you'll put your best foot forward next time you're shopping for comfortable open-toed footwear.
Sometimes, even the most comfortable sandals can still be painful for those with preexisting foot problems. For those who suffer no matter what shoe you choose, special orthotic sandals might be your solution. If you're having trouble finding proper fitting footwear, ask our team for help.
We can add custom inserts or recommend the best walking-friendly, supportive sandals based on your foot shape.
Visit our contact page to make a quick appointment or give us a call today at 239.936.5400.