When you need a foot doctor, especially in an emergency situation such as a severe sprain or a broken bone, you may not be thinking about your expectations for the visit. But, the care and overall processes of your podiatrist can affect your foot health. That's why we'd like to prepare you for any future visit you may have with us.

Here's what you can expect in a visit to any of The Foot & Ankle Group's Southwest Florida locations:
Routine Care Visits
Visiting The Foot & Ankle Group is similar to visiting your primary care physician. You can expect to:
Be greeted warmly during your check-in. In the lobby, our front-desk staff will greet you with a smile and help you with the check-in process for your scheduled appointment. We may have you fill out some paperwork regarding your visit and patient information such as your phone number, address, and insurance details. 
Discuss your visit privately. You'll be taken back to a private room to discuss your visit further with a nurse or doctor— sometimes both. During this time, we'll check your vitals and inquire about your medical history, any current medications you're taking, and any surgeries you've had or have scheduled.
Have a physical exam. At this time, we'll look at your posture, stance, gait, and more. We'll also check your joints from the knee down and test the range of motion of your ankles and feet. Depending on the circumstances of your visit, we may take a look at how your shoes fit and how your arch lays.
Have your needs and concerns addressed. We'll cover your routine health needs at this time— such as if you're visiting us for ongoing diabetic or gout-related foot and ankle management. 
Receive professional recommendations and further assistance. You'll get personalized recommendations for care and treatment of any foot-related problems. We'll also place orders for any follow-up procedures if necessary.
Check-out efficiently. After your visit, you'll check out at the front desk. If we're working with your insurance company, your co-pay, co-insurance, deductible, or non-covered services amounts are due in full at the time of service.
Every team member at The Foot & Ankle Group would be happy to answer any questions and ensure you leave with your best foot forward. You can expect prompt and attentive care every single time you book an appointment with us.
Emergency Care Visits
As you may have guessed, emergency care visits at The Foot & Ankle Group are slightly different from a routine management visit. Most likely, you'll be visiting us as a same-day appointment so we can offer the emergency care you need, fast.
In some emergency situations, you won't have an appointment and you'll be considered a walk-in. If this happens (and it might, because an emergency is an emergency), we'll do our best to keep your wait as short as possible.
Similar to routine visits, you may have paperwork to fill out before you're taken back into a private room to have your vitals checked and a thorough exam with a foot professional.
Common Emergency Care Procedures
Most emergency visits are for broken bones or sprains below the knee. If this is the case for you, you can expect X-rays and/or an MRI so we can get the big picture. For certain emergencies, we may require further lab tests so we can give you the pain relief and treatment that's best for you.
In-Office Emergency Treatment
Depending on the injury and what's found during the exam, we'll address immediate issues. For example, if you have a fracture that needs to be reset, we may use a numbing agent for the injured area to reduce discomfort as we reset the bone before taking another X-ray to double-check that your bone is properly set.

Next, we'll make sure that you have the footwear adjustments needed for support during the healing process. This may include a cast, boot, or splint. 
What About Surgery?
We recommend surgery only if absolutely necessary. In fact, we pride ourselves on advocating other solutions, such as the use of footwear adjustments or rehabilitation sessions.
The Right Path to Recovery
Once your immediate injury has been addressed, we'll work with you on a recovery plan. This means you may receive a prescription for pain management when necessary, or a referral— such as to physical therapists. We'll also work to set a schedule of any follow-up appointments with our office that you may need to make sure your feet are ready to go. 
Finally, you'll check out with one of our staff members just like you would with a routine appointment.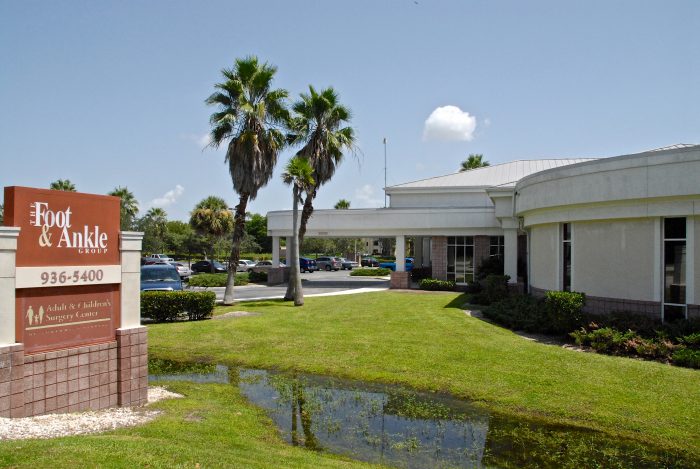 The Foot & Ankle Group Puts Your Feet First
Our experienced foot care team is ready to provide you with care you can trust. In fact, no matter what type of care you need for your foot or ankle, we have you covered. Give us a call to book an appointment at any of the following locations:
Making your feet happy is our priority, which is why we're here to help. Contact us today!